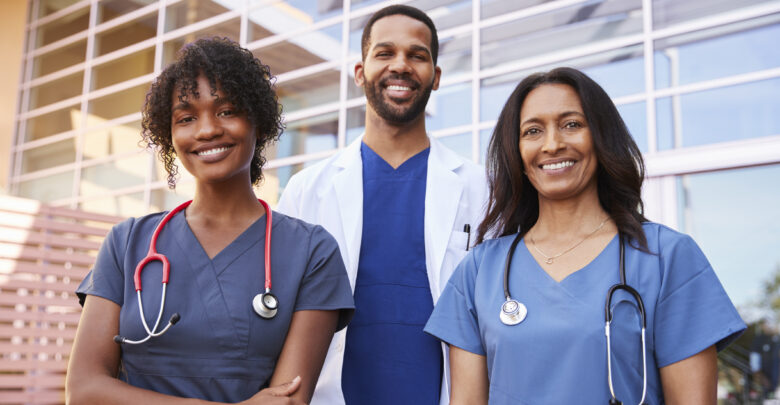 Doctors and Nurses IOM
IOM Sudan is now hiring a Medical Escorts (Doctors and Nurses)
Position Title Medical Escorts (Doctors and Nurses)
Duty Station Khartoum, Sudan
Classification OTHE
Type of Appointment One year with possibility of extinction
Estimated Start Date As soon as possible
Closing Date 22.12.2022
Reference Code CFCV 2022 13
Established in 1951, IOM is a Related Organization of the United Nations, and as the leading UN agency in the field of migration, works closely with governmental, intergovernmental and non-governmental partners. IOM is dedicated to promoting humane and orderly migration for the benefit of all. It does so by providing services and advice to governments and migrants.
IOM is committed to a diverse and inclusive environment. Internal and external candidates
are eligible to apply to this vacancy. For the purpose of the vacancy, internal candidates
are considered as first-tier candidates.
Context:
BACKGROUND:
The International Organization for Migration (IOM) is committed to the principle that humane and orderly migration benefits migrants and society. As the leading international organization for migration, IOM acts with its partners in the international community to:
assist in meeting the growing operational challenges of migration management; advance understanding of migration issues; encourage social and economic development through migration, and; uphold the human dignity and well-being of migrants.
IOM currently implements interventions within the areas of emergency and post-conflict response, preparedness and response, disaster risk reduction, livelihoods, healthcare and psychosocial assistance, assisted voluntary return of migrants, immigration and border management, migration and development, resettlement and repatriation, family reunification, counter human trafficking, assistance to vulnerable migrants, and labour migration. This sometimes involves movement of vulnerable persons who require special travel arrangements during movement such as in relocation, repatriation or resettlement.
IOM is committed to a diverse and inclusive environment. Internal and external candidates are eligible to apply to this vacancy. For the purpose of the vacancy, internal candidates are considered as first-tier candidates.
TASKS / JOB DESCRIPTION
Under the overall guidance of the Regional Health Assessments Program Coordinator and Regional Medical Movement coordinator for Sub -Saharan Africa, the direct supervision of the Escort focal persons at the mission office, the incumbent will act as medical escort for refugees with significant medical conditions requiring special travel arrangements for the duration of their travel to final destinations in the US, Australia, Canada, Europe and other countries.
In particular, the incumbent shall:-
Review the refugee for escort case and all files of refugees/migrants known to

have significant medical conditions and discuss the findings with the IOM PDMS physician and come up with escort plan within 3 days before departure.

Ensure that special services (i.e. medications, oxygen, stretcher, others) needed

are available and confirmed before departure;

Ensure the escort kits has all required medications and instruments are in good

working conditions and tested before the escort.

Completes all administrative procedures before escort duty commences –

including contract signing, Travel Requirement form (TR), finance due.

Introduces themselves to the patient and those accompanying the patient.

Provide all necessary medical care and support to designated beneficiaries(s) –

patients during the journey and accompany these persons to an agreed handover point; Escorts are not permitted to end their escort duty before the agreed final destination.

Identify themselves to airline staff on check-in and again on boarding the carrier.

Confirm all travel requirements are in place at check-in (oxygen, wheelchair, extra

seat etc as indicated in MEDA) is available

Extend general in-flight and on-the-ground support to all passengers travelling under

the auspices of IOM as circumstances require.

Monitors and manages the patient as per plan and/or as needed.

Keeps the Escort Focal Person updated on any changes during travel.

Ensure that designated patients are handed over to a responsible entity overseas

and that unescorted onward travel connections are completely understood by the passenger, accompanying family members or continuing non-medical escorts, and partner agencies.

Accommodate any changes in routing or schedule imposed by the carrier or

condition of the patient; Not change or modify the transportation routing unless mentioned unavoidable circumstances.

Comply with standard IOM requirements for duty travel and entitlements.

Assume other duties as assigned, which may include meetings or briefing of

national health or quarantine officials on arrival, the purchase of goods or equipment at the destination, or assisting in the shipping or return of such equipment;

Upon handover of the migrant(s) to the receiving party, obtain the signature from

the receiving party to Migrant Handover Notification filled in and signed by the medical escort.

Ensure handing over is done as per previously agreed protocol or as necessitated in

case of an emergency in communication with the Escort Focal Person or other relevant higher authority directly concerned with the movement

Complete and submit the Escort Movement Report to the IOM Mission and the

relevant MHD Unit involved within one week after the completion of duty;

Return the IOM medical escort bag once duty is complete, with inventory of all

medications or supplies used during the journey.
Remuneration
IOM provides airline tickets and covers cost of visa application in addition to a service fee but does not cover any additional expenses. The average duration of the round trip is 4-5 days.
COMPETENCIES:
The incumbent is expected to demonstrate the following technical and behavioural competencies
BEHAVIOURAL:
Accountability
Accepts and gives constructive criticism

Follows all relevant procedures, processes, and policies

Meets deadline, cost, and quality requirements for outputs

Monitors own work to correct errors

Takes responsibility for meeting commitments and for any shortcomings

Updates medical movement focal persons on progress of escort
Client Orientation
Identifies the immediate and peripheral clients of own work
Continuous Learning
Contributes to colleagues' learning

Demonstrates interest in improving relevant professional skills
Communication
Actively shares relevant information

Writes clearly and effectively, adapting wording and style to the intended audience

Listens effectively and communicates clearly, adapting delivery to the audience
Performance Management
Provides constructive feedback to colleagues
Professionalism
Masters subject matter related to responsibilities

Identifies issues, opportunities, and risks central to responsibilities

Incorporates gender-related needs, perspectives, and concerns, and promotes equal
gender participation
Effectively applies knowledge of migration issues within organizational context

Persistent, calm, and polite in the face of challenges and stress

Treats all colleagues with respect and dignity

Works effectively with people from different cultures by adapting to relevant
cultural contexts
Knowledgeable about and promotes IOM core mandate and migration solutions
Teamwork
Actively contributes to an effective, collegial, and agreeable team environment

Contributes to, and follows team objectives

Gives credit where credit is due

Seeks input and feedback from others

Actively supports and implements final group decisions
TECHNICAL:
Effectively applies knowledge of IOM Migration Health Division's SOPs and Administrative policies and procedures in execution of responsibilities.
REQUIRED QUALIFICATIONS AND EXPERIENCE:
Education
University Degree in Medicine and/or Nursing with valid license to practice medicine

in Sudan
For the medical doctors: At least three years of clinical experience with

thorough knowledge of emergency medicine: distinct advantage to ER specialists and specialists in emergency pulmonology, cardiology; neurology and paediatric medicine including mental health specialists (psychiatrists).
Current BLS and ACLS or equivalent certification required.

For the medical nurses: At least three years of clinical experience with

thorough knowledge of emergency medicine: distinct advantage to ER/ICU nurses, nurses working at the pulmonology, cardiology, neurology and pediatric medicine including mental health departments/wards. Current BLS and/or ACLS or equivalent certification required.
Experience
Fluency in oral and written English, good written, verbal and oral communication

skills.

Willingness and ability to provide non-medical assistance.

Ability to travel at least once every two months and if needed on short notice.

Possession of a valid US or Canada visa. Possession of European country visas and

added advantage

Gender sensitivity and respect for cultural diversity

Proficiency in computer skills, especially in MS Office products (Excel, Outlook, Word etc).
Languages
Fluency in English

Knowledge of languages spoken in Sudan, Ethiopia and Eritrea

Spoken French language is an advantage
Required Competencies
Values
Inclusion and respect for diversity: respects and promotes individual and cultural

differences; encourages diversity and inclusion wherever possible.

Integrity and transparency: maintains high ethical standards and acts in a

manner consistent with organizational principles/rules and standards of conduct.

Professionalism: demonstrates ability to work in a composed, competent and

committed manner and exercises careful judgment in meeting day-to-day challenges.
Core Competencies – behavioural indicators level 2
Teamwork: develops and promotes effective collaboration within and across

units to achieve shared goals and optimize results.

Delivering results: produces and delivers quality results in a service-oriented and

timely manner; is action oriented and committed to achieving agreed outcomes.

Managing and sharing knowledge: continuously seeks to learn, share knowledge

and innovate.

Accountability: takes ownership for achieving the Organization's priorities and

assumes responsibility for own action and delegated work.

Communication: encourages and contributes to clear and open communication;

explains complex matters in an informative, inspiring and motivational way.
Other:
Application process
The interested applicant is invited to submit to IOM Sudan specific documents as stated below:
An updated CV and a short Concept Paper outlining your proposed approach to this

assignment (including timelines), accompanied by a cover letter detailing the applicant's motivation.

The appointment is subject to funding confirmation.

Appointment will be subject to certification that the candidate is medically fit for

appointment.

IOM has zero tolerance with discrimination and does not discriminate to HIV/AIDS

status.

This position is open to Sudanese nationals, international, and those authorized to

live and work in Sudan according to Sudanese regulations.

Vacancy close at 23:59 local time Khartoum, Sudan on the respective closing

date 22.12.2022. No late applications will be accepted.
How to Apply:
Interested candidates are invited to submit their Resume via email: [email protected]
by 22.12.2022, at the latest, referring to this advertisement.
Only shortlisted candidates will be contacted.
Posting period: From 08.12.2022 to 22.12.2022.
No Fees:
IOM does not charge a fee at any stage of its recruitment process (application, interview processing, training, or other fee). IOM does not request any information related to bank accounts.
For more details on this position, click here